I've often wondered why some organizations enjoy a disproportionate share of the wins. It's easier to explain in business when a company might have a bigger war chest or better real estate or more efficient software. But it gets more confusing in sports, when teams must play with the same number of players by the same rules and draw from the same pool of talent.
The New England Patriots have played in nine of the last 20 Super Bowls, winning six of them. The Montreal Canadiens have won 24 Stanley Cups, nearly double the number of the next closest team. You can't solely point to individual talent in team sports, so you have to examine the philosophy and culture of the organizations to tease out their formula for success.
Enter New Zealand's national rugby team, the All Blacks. Since international rugby rankings were released in 2003, the team has seized the number one spot a whopping 80% of the time. According to team leaders, this remarkable win rate isn't about their talent or equipment or climate. It isn't even about their sport… it's about their shared language. The team attributes their remarkable success to a shared set of cultural values, which they refer to as the First 15.
When I read the "15 All Black Principles", I was struck by both their power and simplicity. Instead of vague and easily-forgotten platitudes like "work hard", these catchphrases are memorable and action-oriented. "Sweep the Shed", "Be a Good Ancestor" and "No Dickheads" provide an operating system for how the team trains, collaborates, and wins: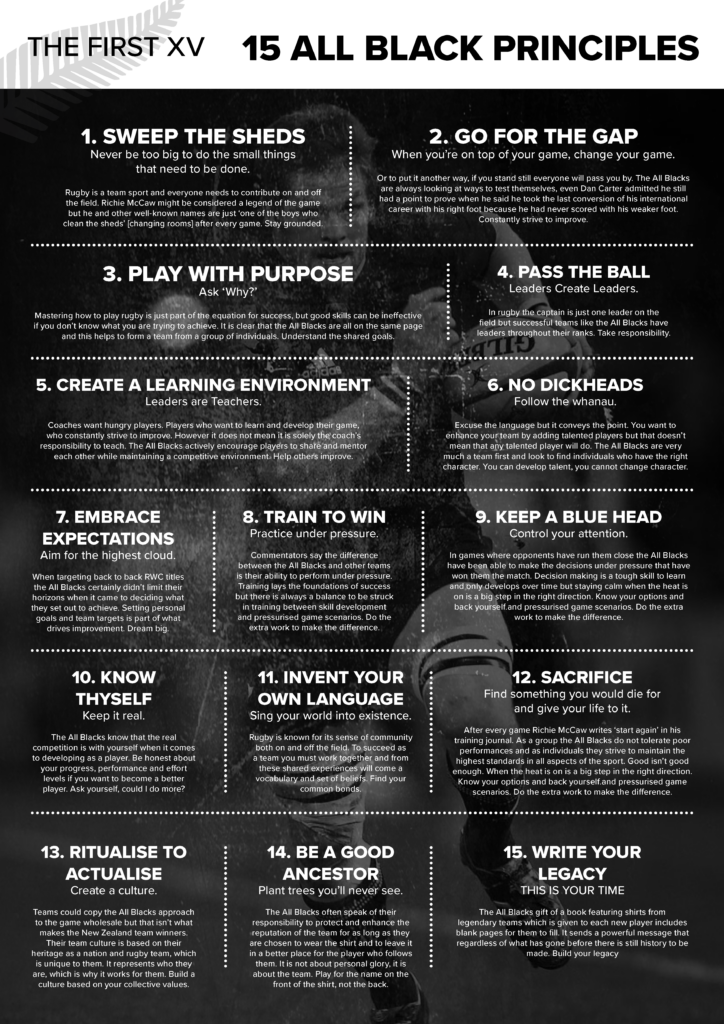 Whether you choose to borrow from the All Blacks or create some catch-phrases of your own, focus on a shared language and set of guiding principles that drive specific outcomes. Just like the All Blacks principle #13 – Ritualize to Actualize – the more we set a deliberate framework for behavior, the more likely we'll be to win our (un)fair share.